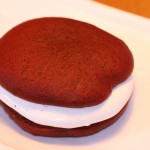 A whoopie pie is a cross between a biscuit and a cake and I have been wanting to try making whoopie pies for awhile I was inspired on the weekend when I saw a You Tube video of them being made. I Googled a few recipes and did a mix of two which B1 is calling "almost my new favourite food"
Despite the strange name, which also resulted in them being called Whoopie Cushions and Whoop-de-doo Pies at home, we all agree they are worth making again.
Ingredients:
125g butter, room temperature
¾ cup caster sugar
1 teaspoon vanilla extract
2 eggs
3 teaspoons red food colouring
1 ¾ cups plain flour
¼ cup cocoa powder
1 teaspoon bicarbonate of soda
¼ teaspoon baking powder
1 teaspoon apple cider vinegar
½ cup buttermilk
Marshmallow filling:
3 egg whites
1 ¼ cups caster sugar
2 tablespoons glucose syrup
1 teaspoon vanilla extract
Pinch of salt
Method:
Preheat oven to 180°C. Line 3 large baking trays with baking paper.
Using an electric mixer, beat butter, sugar and vanilla until light and fluffy. Add eggs, 1 at a time, beating well after each egg.
Sift flour, cocoa, bicarbonate of soda and baking powder into a large bowl.
In a jug, add the buttermilk, food coloring and vinegar.
Add one third of the flour mixture to butter mixture. Mix until combined.
Add half the buttermilk mixture. Mix until combined. Repeat with remaining flour mixture and buttermilk until just combined.
Drop level tablespoons of mixture onto prepared trays, 5cm apart, allowing room for spreading. Alternatively, to get even amounts and nice round mounds, use an ice cream scoop.
Bake each tray for 8 to 10 minutes or until puffed and cooked through. Stand on trays for 2 minutes. Transfer to a wire rack. Cool.
To make the marshmallow filling, whisk the egg whites, sugar, glucose, vanilla and salt in a heatproof bowl over a pan of simmering water for 10 minutes or until a ribbon trail forms when whisk is lifted.
Transfer the marshmallow mixture to an electric mixer bowl and beat for 5-8 minutes or until the mixture has cooled, is thick and holds it shape.
Place whoopies, base-side up, on a clean work surface. Either spoon or use a piping bag to fill one half of the whoopies. Place the remaining whoopies on top and press lightly to sandwich together. Place the whoopies in the fridge until you're ready to serve them.