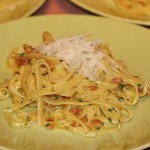 I love a good carbonara, but until now haven't been able to cook one. Finally I have found a recipe that works for me and is very tasty. It is a nice, quick recipe for mid week.

Ingredients:
1 tablespoon olive oil
150g pancetta, cut into thin matchsticks
500g tagliatelle
6 egg yolks
100ml thickened cream
30g unsalted butter
¼ cup flat-leaf parsley, finely chopped, plus extra to serve
50g grated pecorino
50g grated parmesan, plus extra to serve
Heat oil in a fry pan over medium heat, add the pancetta and cook until it starts to crisp, 5 – 10 minutes.
Meanwhile, cook the pasta in a large saucepan of boiling salted water according to packet instructions. Drain. Alternatively you can make fresh pasta, but remember it needs a couple of hours in advance too prepare.
Lightly whisk eggs and cream in a bowl.
Add the butter and parsley to pancetta, then add pasta and cheeses and toss well to combine. Remove the pan from the heat and quickly add the cream mixture. Toss gently to combine. (The pasta's heat will cook the egg slightly and form a creamy sauce, overcooking will give the dish a scrambled egg look)
Season, then serve with extra parmesan and parsley.