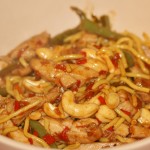 This is my favourite Thai dish. I am sure it is not a completely authentic recipe, but it does taste just like what I used to get from the Thai take away where I used to live.
Serves 4


Ingredients:
3 tablespoons canola oil
500g chicken thigh, thinly sliced
salt and ground black pepper, to taste
2 ½ tablespoon Sambal Oelek or chilli paste
½ cup chicken stock
1 large capsicum (red or green), seeded and cut into strips
½ large brown onion, diced
¼ cup oyster sauce
1 tablespoon brown sugar
4 red banana chillies, finely diced
½ cup unsalted cashews, toasted
5 scallions, diced
Steamed Thai jasmine rice or noodles, for serving (we use noodles as B1 is not a fan of rice)
Method:
Season chicken with salt and pepper.
Heat 1 tablespoon oil in a wok medium-high heat. Add half the chicken and stir fry until cooked through. Put the chicken in a bowl and set aside. Repeat with 1 tbs. of the oil and the rest of the chicken.
Add the remaining oil to the empty wok. Add the Sambal Olek, stirring constantly to break it up for 1 minute. Add the chicken stock, capsicum, onion, oyster sauce and sugar. Stir well and simmer for 3 minutes.
Lower the heat to medium, return the chicken to the wok and cook until the sauce is slightly thickened and the vegetables are tender, about 4 to 5 minutes. Add the chillies, cashews and scallions, stir to combine and serve immediately over rice or gently stir through prepared noodles.