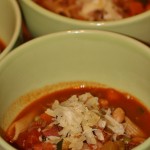 I love Minestrone Soup……… OK, so I start most of my blogs with "I love…", but I do! I love so many foods! Minestrone soup is such a great way to get a helping of veges and is wonderful served up with freshly baked sourdough on a cold winter's night.
This might not be a traditional recipe, but it is very tasty. I bought a lovely slab of Pancetta from the Aproneers and everyone commented on the great taste of the soup this time around.
Ingredients:
1½ tablespoon olive oil
250g pancetta, diced
1 onion, finely diced
1 carrot, diced
2 celery sticks, diced
4 cups chicken stock
2 cups beef stock
1 x 400g can Italian diced Roma tomatoes
2 tablespoon tomato paste
Sea salt & black pepper
1 cup shell pasta
1 cup finely shredded cabbage
½ cup frozen peas
1 zucchini, diced
1 x 400g can rinsed cannellini beans
Method:
Heat olive oil in large saucepan and cook the pancetta, onion, carrot and celery. Stir for 3 minutes or until onion is soft.
Add the stock, tomatoes, tomato paste and season with salt and pepper. Bring to the boil, simmer, cover for 25 minutes or until vegetables are tender. Stir occasionally.
Add pasta,  cabbage, peas and zucchini. Boil uncovered for 8-10 mins. Stir through cannellini beans until warmed through and serve immediately with parmesan and crusty sourdough bread.