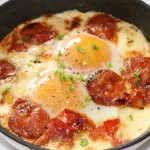 Ever since I received my "Cheese Club" delivery from Bruny Island Cheese Co. I have been wanting to experiment with baked eggs and their O.D.O. (one day old) marinated cheese.
I will say I think the baked eggs were a wonderful success (or as the DB said "Bloody Nice") and I imagine they will be on the menu fairly regularly. Serve with toasted crust bread to dip in the runny eggs. Serves 2.
Ingredients: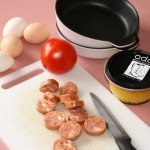 1 chorizo, sliced
½ tomato, chopped chunky
½ clove garlic, finely chopped
4 eggs
pinch cumin
pinch, coriander seed
pinch ground chillies (could have done with more)
salt & pepper
110g marinated cheese (I used Bruny Island O.D.O)
Method:
Pre heat oven to 180°C.
Fry the garlic, tomato, chorizo slices, cumin, coriander and chillies in a small frypan, until the tomato is soft and the chorizo is slightly browned.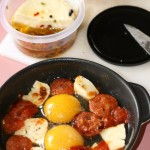 Into two individual baking dishes, crack two eggs gently into each.
Cut the cheese into chunks and place around the outside of the eggs (this forces the eggs into the middle of the dish).
Add the chorizo and tomato mix in between the cheese pieces, trying to keep the eggs on the inside of the dish.
Top each dish with a little salt and pepper and bake for 10 – 12 minutes until the whites are coloured (cooked and no longer clear)and the yolks are still runny.