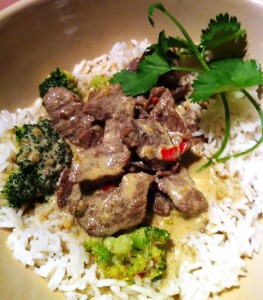 Ingredients:
500g Lean Beef Strips
2 teaspoon vegetable oil
1 garlic clove, crushed
½ red capsicum, cut into strips
1 broccoli floret
2 tablespoon Thai Red Curry Paste
1 tablespoon brown sugar
1 tablespoon fish sauce
200 ml coconut milk
1/3 cup fresh coriander leaves
Method:
Combine the beef, oil and garlic in a small bowl. Heat a wok over high heat. Add the beef strips in small batches and stir-fry for 1 – 2 mins.. Remove each batch from wok when cooked and allow the wok to reheat before frying the next batch.
Add the capsicum and broccoli to the pan with a sprinkling of water. Steam for 1 to 2 minutes, then return the beef strips.
Stir in the curry paste, brown sugar, fish sauce, coconut milk and coriander. Toss for 1 to 2 minutes or until heated through. Serve with rice.