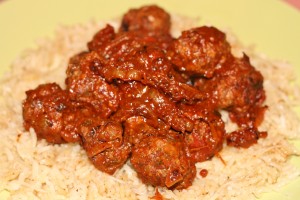 These koftas are Amina's from Masterchef magazine #23.
Making them was in response to DB when I asked him what he wanted for dinner. The answer was "MEAT!"
We had two vegetarian dishes during the week, so message received, loud and clear. Here is some meat!
I have made it since for B1 and B2 and got a two thumbs up from them, so it comes recommended. Note of warning, it does take an hour and a quarter from start to finish.
Ingredients:
Koftas:
300g beef mince
300g lamb mince (I substituted pork & veal mince)
½ cup finely chopped parsley
1 small tomato, seeded & finely chopped
½ onion, finely chopped
1 clove garlic, crushed
1 tablespoon baharat
½ teaspoon ground cinnamon
1 teaspoon sumac
Tomato Sauce:
¼ cup olive oil
2 onions, sliced
1 clove garlic, crushed
400g can chopped tomatoes
1 teaspoon baharat
½ teaspoon ground coriander
1 teaspoon ground cumin
Vermicilli rice:
200g long grain rice, soaked in water for 10 minutes
40g butter 30g vermicilli noodles
375ml chicken stock
Method:
Put all the kofta ingredients into a bowl and season with salt and pepper. Combine well. Form tablespoons into balls and set aside.
To make the sauce, heat the oil over a medium heat, in a deep frypan that has a lid. Add the onions and garlic and cook stirring for 10 minutes or until dark golden. Remove with a slotted spoon and set aside.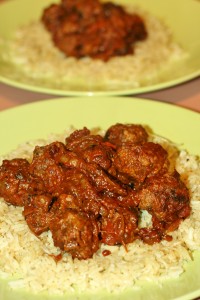 Increase heat to high and add koftas. Cook turning for about 4 minutes until browned all over. Return onion to pan with remaining sauce ingredients and bring to a simmer. Reduce heat to low, cover and cook for 30 minutes. Remove lid, increase heat to medium-high and simmer for 5 minutes until thickened.
Meanwhile, to make the vermicelli rice, drain the rice well. Melt the butter in a heavy based saucepan on a medium-high heat. Crush the noodles and add to the pan. Cook tossing for 4 minutes or until golden. Add the rice and stir to coat. Add the stock and bring to a simmer without stirring. Cover and reduce heat to low. Cook for 20 minutes or until the liquid is absorbed. Stand covered for 5 minutes.
Fluff the rice and serve with the koftas in tomato sauce.