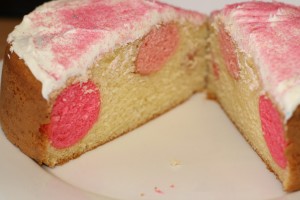 We decided at the last minute to have a Pink Ribbon Day Morning Tea Fundraiser for breast cancer. What a great opportunity for me to experiment with something I'd wanted to try for weeks – a polka dot cake.
I was purchasing a few things from my favourite cake supply shop: Cakes around town and on their front page they had a link to the polka dot cake by Once Upon a Pedestal. How cool is that! I also love her butterfly cake and when I have about three days to spare I'll give it a go myself.
But back to the polka dot cake….. I already purchased the cake ball pan, with making a polka dot cake in mind. Not for making cake balls….. been there….. done that….. failed a little bit….. had a heap of fun tho'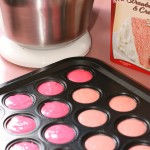 So, with limited time, I resorted to cake mix and frosting mix…. Aunty Betty to the rescue!
I wasn't happy with the pasty pink that the strawberry cake mix gave, so out came the neon pink gel paste and I had two lovely shades of pink to play with. Half the tray was filled with pale pink and the other half with neon pink batter. I cooked them for about
10 minutes, until the bits that volcano'd out the top were just cooked. I popped off the little volcano caps and opened up the pan and there were lovely little pink balls of cake. Slightly cone shaped, but once they were in the main cake, no one would notice.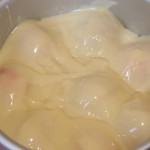 So, I put some of Aunty Betty's vanilla cake mix into the bottom of the cake pan, laid the balls in and then covered them up with more batter. It kind of worked. The cake rose more than I expected and the little cake balls were trying to escape out the top of the cake. Once the cake was cooked and out of the oven I tipped it out of the cake pan and let it cool upside down, to try and flatten the top a bit.
Once cooled, a slap of Aunty Betty's vanilla frosting and a sprinkle of pink sparkle and Ta Dah! A polka Dot cake!
And it did cause a bit of a stir in the office when we cut it. Everyone was very intrigued to know how I got the pink bits so round. They were also still nice and moist, even though they were twice cooked.
So, for a bit of fun, next time you have to make a cake, try a polka dot cake. Not all that hard at all.