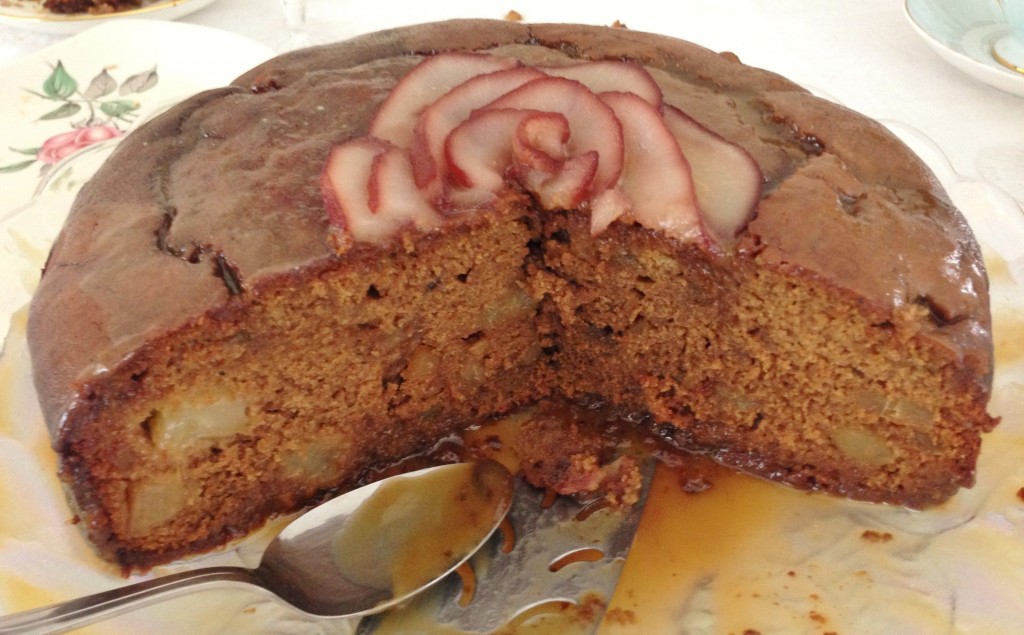 It was the DB's mother's birthday, so it was time to whip up something special for her. I had put out the feelers a few weeks ago and apparently her favourite cake is pear and ginger, so this is what I came up with.
The poached pear rose on the top was to try and pretty it up a bit.
Ingredients:
225gm softened butter
250gm dark brown sugar
3 pears, core removed and cut into large cubes
3 cups plain flour, sieved
1 teaspoon bicarbonate of soda
1½ teaspoonground cinnamon
1 teaspoon finely grated nutmeg
1 cup treacle
3 eggs
1 cup buttermilk
125g glacé ginger, finely diced
1/3 cup pouring cream
Method:
Preheat oven to 160C.
Melt 100gm butter in a large frying pan over medium heat, scatter in half the sugar and stir until dissolved (3-5 minutes). Add diced pears and turn occasionally until golden and just cooked through (10-12 minutes). Remove pears with a slotted spoon and set aside. Reserve remaining liquid in frying pan.
Sift flour, bicarbonate of soda and spices into a bowl and set aside.
Beat remaining butter and remaining sugar in an electric mixer until pale and creamy (3-5 minutes). Add treacle, then eggs, one at a time, beating well after each addition to combine.
With mixer on low speed, add one third of the flour mixture, mix until just combined. Add one third of the buttermilk, Mix again until just combined. Continue until all ingredients are combined. Gently fold through the glacé ginger.
Pour a layer of batter into the cake pan to just cover the base. Add half the pears then half the remaining batter, repeat again with pears and cake batter.
Bake until an inserted skewer withdraws clean (1 hour 15 minutes).
Just before the cake is due to be removed from the oven, re-heat the reserved pan juices over medium heat, once it is starting to bubble, remove from heat and whisk in the pouring cream until combined to make a caramel sauce.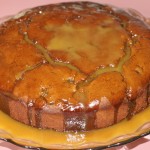 Remove the cake from the tin and place onto a serving plate. Drizzle with the caramel sauce and use a knife inserted in the top to help the sauce seep into the cake.
Serve warm with double cream
If desired decorate with a poached pear rose. See recipe for red wine poached pears.