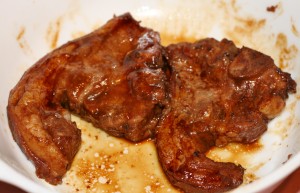 No, these are not named after the kiddies singing group, I named them High-Five Lamb Chops because that is what I got from B2 when he tasted them for the first time. He was very impressed, as was the DB whose comment was "Why haven't you ever cooked these for me before"?
This is a recipe that I "made up" a very long time ago and had not made for over 10 years. You can vary the quantities of the sauces depending on your taste and what you have on hand and they still turn out "melt in your mouth" every time.
Ingredients:
6-8 lamb chops of your choice
½ cup soy sauce
1/3 cup Worcestershire sauce
¼ cup tomato sauce
¼ cup BBQ sauce
100 ml water
Method:
Pre-heat oven to 180 degrees Celsius
Mix the sauces and water together.
Lay the chops in the bottom of a baking dish that fits them nicely in a single layer, cover with the sauce mix.
Cover with foil or casserole lid & bake for 30 minutes.
Remove the chops from the sauce and serve with green veges. and potato mash.
You can use some of the leftover sauce to pour a spoonful or two over your potato if you like.
This photo was taken by the lovely Lady B, who received High-Fives herself when she made them for her family! Nice one!