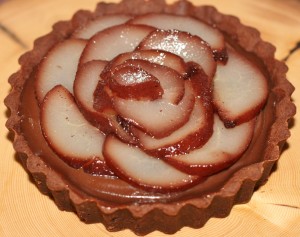 There are three parts to this recipe, the chocolate tart pastry, the chocolate filling and the red wine poached pear. You can adjust the ratio of dark and milk chocolate to suit your taste but do try the red wine poached pear, it goes beautifully with the dark chocolate.
This recipe makes one large 20 cm tart or 4 – 5  smaller 10 cm tarts.
Ingredients:
Chocolate Pastry:
350g plain flour
40 g cocoa powder
125g icing sugar
200g unsalted butter
1 egg
zest of ½ orange
Chocolate Filling:
265ml thickened cream
300g dark chocolate
100 g milk chocolate
2 pinch salt
4 egg yolks
Red Wine Poached Pears: (click link)
Method:
Chocolate Pastry:
Pre-heat the oven to 160°C.
In a food processor, combine all the ingredients until the form a dough. Remove and combine on a clean bench. This pastry doesn't roll and drape very well, I tend to press "blobs" of the pastry into the pie case until it forms a thin layer. I used a 20 cm tin. If you have any leftover pastry, you can freeze it ready for next time.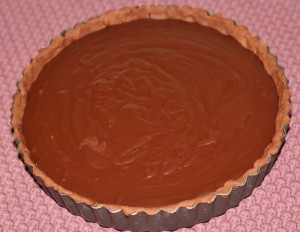 Blind bake for 9 minutes (6 minutes for smaller tarts), turn the oven off. Remove the pie weights and if the pastry is still a little undercooked, leave the pastry base in the oven to finish cooking with the residual heat. Do not be tempted to let it cook longer with the oven on, or it will be too dry and brittle.
Chocolate Filling:
Heat the cream over a medium heat until just starting to simmer, but do not boil. Add the chocolate and a pinch of salt and stir until melted and combined. Check the taste and add further salt until the bitterness of the dark chocolate is reduced, but not until it tastes salty.
Remove from the heat and add the egg yolks. Stir until combined. The heat of the chocolate mix will gently cook the eggs and make it like a custard.If you aren't confident of the eggs cooking enugh, using a thermometer, take the mixture to 70°C, while gently stirring.
Pour into the pastry case(s) and chill in the fridge for at least 3 hours or overnight.
Assemble immediately before serving. Halve and slice the pears and decorate the tart. Enjoy with double cream or on its own.