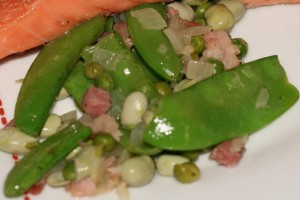 I don't know if you are like me and used to be force fed big, fat, floury broad beans as a kid. Blerk!
This is a fantastic way to have broad beans. They taste great, but you do have to make sure you get the nice young pods of beans.
Serves 4
Ingredients:
400g whole baby broad bean pods or about 100g baby broad beans
1 tablespoon olive oil
1 small brown onion, finely diced
1 small garlic clove, crushed
125g frozen baby peas
25ml dry white wine
50ml chicken stock
100g pancetta, diced or matchsticks
40g fresh sugarsnap peas in the pod, topped & tailed and halved
40g fresh snow peas in the pod, topped & tailed and halved
Method:
Blanch the broad beans in their pod for 2 minutes in boiling water and then refresh in cold water. Remove the beans from their pods and set aside.
Sauté the garlic and onion in the olive oil until soft. Add the frozen baby peas, beans, stock and wine. Simmer until the liquid has almost completely reduced.
Add the pancetta and remaining peas and cook for one minute.
Season with salt and pepper and serve.