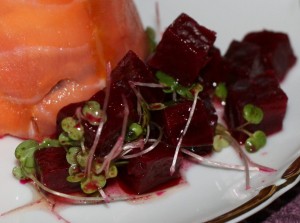 This pickled beetroot is just divine.
I made it as an accompaniment for a smoked salmon terrine.
Ingredients:
1 bunch baby beetroot
100 g castor sugar
100 ml white wine vinegar
100 ml white balsamic
60 ml extra virgin olive oil
Method:
Cook the beetroot in boiling water until tender. Drain and peel. I wore disposable gloves and just rubbed the skin off to peel it.
Cut the beetroot into cubes. Reserve the offcuts to use for everyday eating I.E. when you aren't trying to show off to friends.
Mix together the other ingredients and pour over the beetroot cubes and allow to marinate for at least an hour.
Drain the beetroot cubes, but reserve the liquid to store your beetroot offcuts. Mix the beetroot cubes with baby cress and a light drizzle of olive oil and serve.