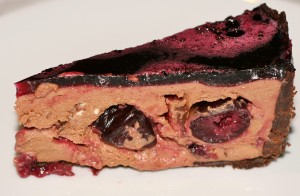 This cheesecake was adapted from the Women's Weekly Black Forest cheesecake recipe. The inspiration was to do something yummy with the cherries that were left over from Christmas.
Another recipe I looked at, had chopped up Cherry ripe bars, which I used. I have omitted the Cherry Ripe from the recipe below as it really doesn't need them. The real cherries, chocolate and cherry jelly are quite enough.
Ingredients:
Base:
250g packet chocolate biscuits (I used Arnotts Chocolate Ripple)
125g unsalted butter, melted
Cheesecake:
500g fresh cherries, pitted
1 ¼ cup caster sugar
3 teaspoons gelatine
½ cup water
250g cream cheese
1 tablespoon lemon juice
300ml thickened cream
200g dark chocolate
Jelly Topping:
1 tablespoon gelatine
400ml juice reserved from cherries
Method:
Base:
Grease a 20cm spring form pan. Blitz the biscuits in the food processor until crumbed. Mix in the melted butter.  Press into the base and sides of the spring form pan. Chill in the refrigerator for 30 minutes.
Cheesecake:
Put the cherries, ½ cup caster sugar and 2 tablespoons water into a saucepan on medium heat. Stir until the sugar is melted. Set to a low simmer and leave for 30 minutes, stirring regularly.
Sprinkle gelatine over the water in a small heatproof jug. Stand the jug in small saucepan of simmering water. Stir until gelatine dissolves and then cool for 5 minutes.
Meanwhile, beat the cream cheese, remaining ¾ cup sugar and lemon juice with an electric mixer until smooth; transfer to a large bowl.
Whip cream until soft peaks form, fold into cheese mixture in two batches.
Using a bowl over a simmering saucepan, melt the chocolate and then fold into the cream cheese mixture until nearly combined. Fold in gelatine mixture gently until all combined.
Drain the cherries well and reserve 400ml of the cherry juice, for the jelly.
Spoon 1/3 of cream cheese mixture onto the crumb crust, top with half of the cherries. Repeat layering, finishing with a cream cheese mixture. Refrigerate until just firm, about 1 hour.
Jelly Topping:
In a small saucepan, mix the gelatin and ½ cup of the cherry juice. Heat gently, stirring, until the gelatin has dissolved.
Add the remaining juice and stir well. Pour the jelly gently over the cheesecake and refrigerate for 4 hours. If you want a nice smooth jelly topping, pop the bubbles with a toothpick before setting.