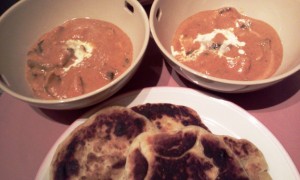 I finally found a butter chicken recipe that is made from scratch, that actually tastes like butter chicken. Thank you to Jimmy and Masterchef 2011 for the recipe.
Also thanks to the Spice World in Hobart for all those hard to find ingredients. http://www.spiceworld.com.au/
The Roti Canai (Flakey Fried Indian Bread) was made by the Darling Boyfriend (DB). Here is the recipe;
Roti Canai
Ingredients:
500 g plain flour
1 egg, beaten
½ teaspoon salt
1 tablespoon sugar
50 g butter or ghee, melted
1 cup water
1 tablespoon condensed milk
¼ cup ghee or oil for frying
Method:
Sift flour into a mixing bowl, add egg, salt, sugar and melted ghee. Combine water with the condensed milk and add to the mixture. Mix well to make a soft dough. Roll dough into a ball and cover with a damp cloth. Leave to rest in a warm place for 30 minutes.
Divide dough into 6 balls. Coat in ghee, cover and leave to rest for a minimum 20 minutes or up to 4 hours.
Heat an iron griddle or heavy pan and coat with ghee. Flatten dough balls and stretch out as far as possible. Fold edges inwards, continue until you have a round shape 15 cm in diameter. This gives the bread a layered texture. Fry the roti individually until crisp and golden, adding more ghee if necessary.
The MasterChef link keeps changing, so I have posted the butter chicken recipe below:
Ep 60 – Butter Chicken
---
EP 60 MASTERCLASS 
Jimmy Seervai 

Butter Chicken 

Tandoori Chicken 
600g chicken thigh fillets, cut in three 
Juice of 1 lime 
1 tablespoon Kashmiri chilli powder 
1/2 teaspoon salt 
1/2 cup thick Greek yoghurt 
1 teaspoon garlic paste, minced on microplane 
1 teaspoon ginger paste, minced on microplane 
1 teaspoon garam masala 
1/2 teaspoon dried fenugreek leaves 
1 tablespoon sunflower oil 
Butter sauce 
2 tablespoons sunflower oil 
1 large brown onion, chopped 
1 teaspoon ginger paste 
1/2 green chilli, finely chopped 
3 green cardamom pods, lightly crushed 
2g blade mace 
2 tablespoons cashew paste 
600g vine ripened tomatoes, chopped 
50ml tomato puree 
1 cup chicken stock 
1/2 teaspoon salt 
1 teaspoon honey 
1 teaspoon garam masala 
1 teaspoon Kashmiri chilli powder 
1 teaspoon dried fenugreek leaves 
50g unsalted butter 
100ml pure cream 
Green chillies, fresh coriander and cream for garnishing 

1 For tandoori chicken, add all ingredients for marinade except oil to a bowl and mix well. Coat chicken with marinade and refrigerate for 3 hours or overnight. 

2 Preheat oven grill, and place chicken on the grill rack, with a tray underneath to collect the drippings. Grill for 8-10 minutes, brush with oil, turn chicken over and grill for another 4-5 minutes until the chicken is cooked. Keep aside. 

3 For butter sauce, heat oil in a frying pan over medium heat, add onion and cook until translucent. Add ginger paste, green chillies, cardamom, mace and cashew paste and fry for a further 2 minutes. 

4 Add tomatoes, tomato puree, stock and salt and simmer, stirring, occasionally for 5 minutes. Remove from heat and set aside to cool. 

5 Once cool, blend to a puree to make a smooth sauce. Strain through a sieve. Return sauce to pan and cook over low heat. Add the honey, followed by the tandoori chicken and drippings. Stir and 
simmer for 3-4 minutes.  

6 Sprinkle over garam masala, Kashmiri chilli powder and dried fenugreek leaves. Add the butter and stir until it melts. Finally stir in cream and take off heat. Garnish with green chillies, fresh coriander 
and cream. Serve with rice or naan bread.