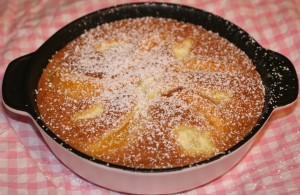 I had seen clafoutis in various cookbooks, but never made or eaten one. With the new Autumn menu starting at work, plum and ricotta clafoutis is one of the new desserts. I had to give it a go on my days off to share the recipe at home.
The traditional clafouti is made with cherries that still have the pit in (I would prefer them pitted), but any stone fruit should do just as well.
There are so many clafoutis recipes on the web and after a bit of Googling, I chose this recipe from the SBS Food series, which was created by by Guillaume Brahimi and adapted it to suit peaches and ricotta.
Serves 4
Ingredients: 
120g almond meal
30g corn flour
200g caster sugar
Pinch of salt
4 whole eggs
2 egg yolks
50ml cream
60g butter, melted, cooled to room temperature
butter, extra, to grease
2 cling-stone peaches, skinned, stoned and sliced
icing sugar to dust
vanilla bean ice cream to serve
Method:
Preheat oven to 180°C.
In a bowl, combine the almond meal, corn flour, caster sugar and salt.
Lightly grease a 4 x 12.5cm tart moulds with butter, and arrange on a tray.
Whisk together the eggs and egg yolks until light and creamy. Gradually add the cream and butter, whisking consistently.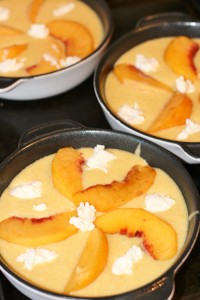 Gradually add the almond mixture, whisking consistently until combined.
Pour in the clafoutis batter evenly between the tart moulds.
Divide the peach portions evenly among the moulds, laying them on top of the batter. Place small "globs" of ricotta in between the peach slices.
Bake for 15-20 minutes until golden, or until a skewer inserted into the centre comes out clean.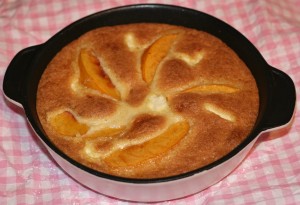 Dust with icing sugar and serve with vanilla bean ice-cream. NOTE: the ice-cream in the photo is home made vanilla bean ice-cream. B1 thought white ice -cream was a bit boring and it would look more prettiful if it was pink…….. so pink, vanilla bean ice-cream we had.