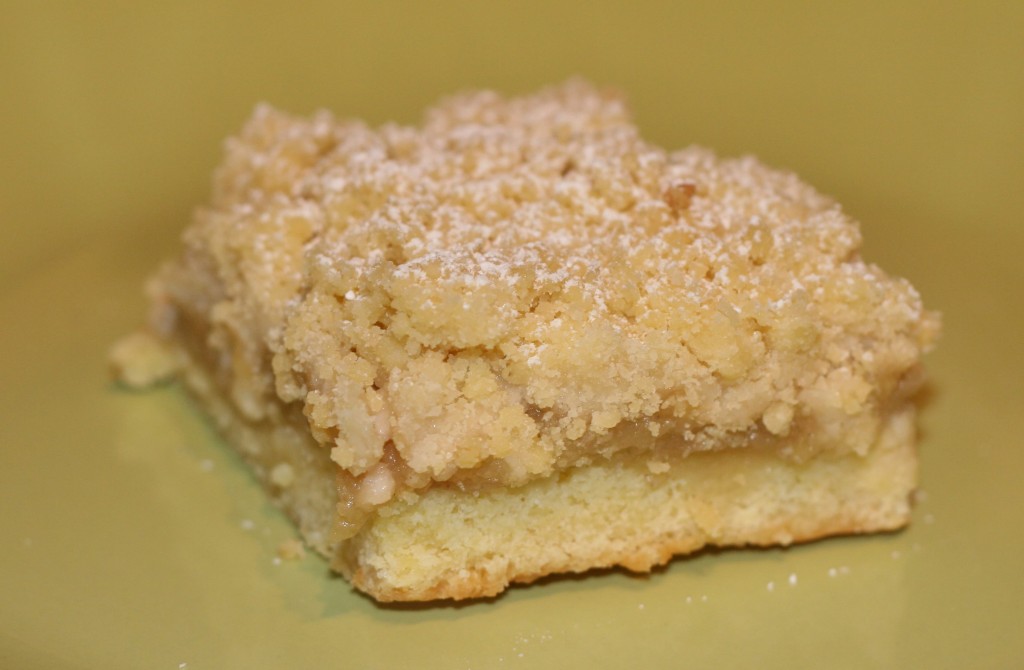 This is a slice that my Grandmother used to make. I haven't had it for years and wanted to make it just like she used to. My Grandmother only ever cooked on a big combustion stove and I have no idea how she managed to cook things so perfectly every time just using a wood fired stove. Thankfully, I have the wonders of modern technology and have the use of an electric stove that keeps an even temperature.
Ingredients:
Crumble Topping
1¼ cups plain flour
1 teaspoon baking powder
125g butter
¾ cup caster sugar
apple filling
5 apples, peeled and chopped
10g butter
½ teaspoon ground cinnamon
Shortbread Base:
100g butter
½ cup caster sugar
1 egg
1 cup plain flour, sifted
1 teaspoon baking powder, sifted
1 tablespoon milk
icing sugar, to dust
Method:
Preheat oven to 160°C (320ºF).
Crumble Topping
Mix the flour, baking powder, butter and sugar in a bowl until it resembles breadcrumbs. Set aside.
Apple Filling
Place the apple, butter and cinnamon in a saucepan over low heat and cook until softened. Allow to cool.
Shortbread Base
Mix the butter and sugar in an electric mixer until creamy. Add the egg and beat well.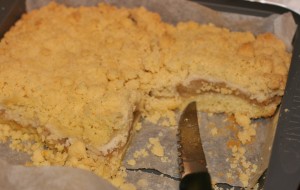 Fold through the flour, baking powder and milk.
Spread in a 20cm x 30cm tin lined with non-stick baking paper, top with the apple filling and then sprinkle with the crumble mix.
Bake for 40 minutes until golden.
Serve dusted with icing sugar. If you can't wait for it to cool, serve hot with ice cream or custard or both.