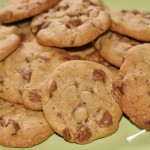 Choc Chip Cookies are an essential staple in our house. This recipe can be frozen so you have cookie dough ready to cut and cook in case of a cookie shortage crisis 🙂
This recipe comes complements of my sister in law's, sister. Thanks Shazza!

Ingredients:
2 cups plain flour
½ teaspoon baking powder
½ teaspoon salt
170g unsalted butter, melted
1 cup bown sugar, packed
½ cup white sugar
1 tsp vanilla
1 egg, plus 1 yolk
2 (YES 2) cups chocolate chips
Method:
Preheat oven to 165 C.
Sift flour and baking powder and salt.
Mix butter and sugars until creamy.
Beat in vanilla and eggs until well mixed, then add dry ingredients, mix until just combined, then add choc. chips.
If cooking immediately, put on lined trays and bake for approx 15 mins. They do spread, so leave space in between. Allow to cool on trays for few mins and then transfer to racks to cool completely.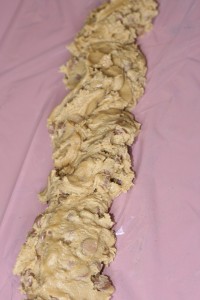 If freezing; lay a sheet of cling wrap on the bench and place a "log" of half the mixture on it. Wrap tightly and place in the freezer. Repeat with the remaining mixture.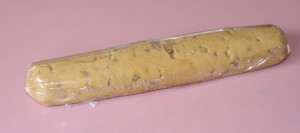 When ready to use, unwrap and slice the log into ½cm rounds and bake as above. Don't worry if it is a bit crumbly, just push the bits together on the tray to something that resembles a biscuit shape and all will be well.