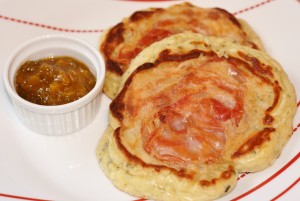 These pancakes are my version of a favourite from the Machine Laundry Cafe. I have them every time I go there and even though I tell myself I will try something different on the menu, I can't help it and I order the pancakes.
I served these with Grandma's Apple and Zucchini Relish.
Makes 10 pancakes
Ingredients:
1 1/2 cups milk
1 egg
2 cups self-raising flour
¼ teaspoon bicarbonate of soda
¼ cup caster sugar
1/2 cup fresh basil leaves, finely shredded
1/3 cup fresh parsley leaves, chopped
1/4 cup fresh oregano leaves, chopped
3 shallot onions, thinly sliced
½ cup finely grated parmesan cheese
2 garlic cloves, crushed
salt & pepper to season
10 rounds of sliced pancetta
Whisk milk and egg together in a jug.
Method:
Sift flour and bicarbonate of soda into a bowl. Stir in sugar.
Make a well in centre and add the milk mixture. Whisk until just combined.
Stir in basil, parsley, oregano, onion, parmesan and garlic. Season with salt and pepper.
Heat a non-stick frying pan over medium heat. Spray lightly with Canola spray.
Place a slice of pancetta in the pan and cover with pancake batter. Repeat if there is mor room in your pan.
Cook pancakes for 3 to 4 minutes or until bubbles appear on surface. Turn and cook for 3 minutes or until cooked through.
Transfer to a tray or plate, cover loosely with foil and keep warm.
Repeat with remaining pancetta rounds and pancake mixture, spraying the pan between batches.
Serve with a nice chutney or relish.