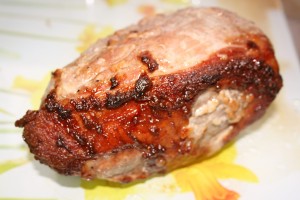 The conversation at dinner went a bit like this:
B1: What kind of meat is this? I don't like meat, but this tastes magical!
Me: Well, if it's magical, it must be Unicorn.
And so we now have Roast Unicorn instead of Roast Beef on roast night.
This beef is not dry like roast beef can get and slicing it thinly seems to make it more delicious.
Serves 4 for dinner, with plenty of leftovers for Unicorn and mustard pickle sandwiches the next day.
Ingredients:
1 Kg Roast Beef – I use whatever cut is cheaper in the supermarket
salt and pepper for seasoning
2 confit garlic cloves
olive oil
Method:
Pre-heat the oven to 230°C.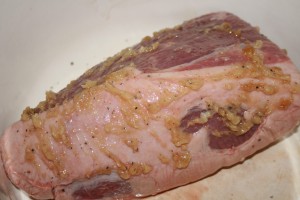 Place the beef into a roasting tray and drizzle with oil. Season with salt and pepper and then smear the top with mashed confit garlic. This gives a nice garlic crust on the top.
Put in the oven and roast for 30 minutes.
Reduce heat to 175ºC for 45 minutes (or 20 minutes / 450g). This gives you a well done roast. Take the roast out sooner for a rare roast beef. To check the "doneness" of your roast use a probe thermometer; (temperatures below allow for further cooking while resting)
Rare                   45ºC
Medium-Rare  55ºC
Medium            60ºC
Medium-Well   65ºC
Well                   70ºC and above
Remove the roast from the oven and allow to rest for 30 minutes, covered in foil.
Slice thinly and serve with all the trimmings.