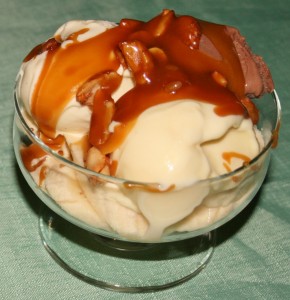 Salted Caramel is my new favorite flavour. I have been making it to use as a sauce for the DB's favorite dessert; the Banana Split.
If you are a bit short on time or can't be bothered making the sugared peanuts, Lolly Gobble Bliss Bombs make a great alternative to sprinkle on top.
Serves 2

Ingredients:
1 Banana
Vanilla Ice Cream
Banana Ice Cream
Chocolate Ice Cream
Salted Caramel Sauce
Sugared Peanuts
Salted Caramel Sauce:
250g icing sugar
80ml water
120g full fat creme fraiche
200g salted butter
1 tablespoon sea salt flakes
Sugared Peanuts:
320g raw peanuts
2 cups water
4 tablespoon sugar
Method:
Salted Caramel:
In a saucepan, over a low heat, dissolve the sugar in the water. Don't mix it too much and watch it carefully as once it starts to colour it can darken very quickly.
Once it starts to turn a light brown, use a spatula to stir and add the creme fraiche little by little until it is all mixed in. Use a thermometer and once the temperature has reached 108°C, remove the pan from the heat and add the butter. Whisk until the caramel is smooth. Gradually add the salt flakes to taste and whisk between additions until dissolved.
Store in a sealed container inn the fridge and heat as required for use.
Sugared Peanuts:
Cook all the ingredients in a saucepan until the liquid is dissolved. Remove from heat and allow to dry.
Deep fry the nuts in a wok or deep fryer until golden brown.
Store in an airtight container in the pantry.
Banana Split: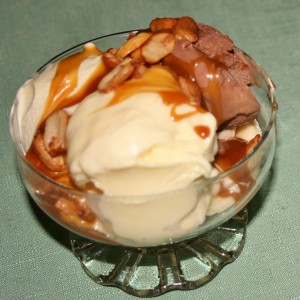 Chop or slice the banana to desired shapes    (I just slice into rounds or Paysanne) and distribute between two serving dishes.
Top with a scoop each of the ice creams.
Heat your salted caramel sauce and pour over to taste. Sprinkle with sugared peanuts or Lolly Gobble Bliss Bombs® and enjoy!