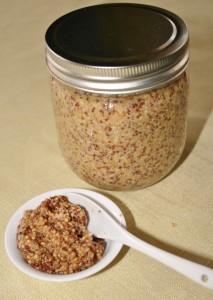 This recipe comes from the Gourmet Farmer deli book. Once opened, it will keep in the refrigerator for up to six months.
Be warned it is a bit more potent than what you buy in the supermarket so go easy at first. 🙂
I haven't done the exact calculations but it is not really that much cheaper to make your own, but it does give you a nice satisfaction and makes a lovely homemade gift.
Ingredients:
60g yellow mustard seeds
40g black mustard seeds
125ml white wine vinegar
1 teaspoon salt
juice of 1 lemon
Method:
Combine the mustard seeds and vinegar in a plastic bowl, stir and cover. Leave overnight.
Remove 2/3 of the seeds and liquid and process to a smooth paste. Add the lemon juice and salt.
Stir in the remaining mustard seeds until combined.
Spoon into sterilised jars and seal with tight fitting lids.
Store in a cupboard for a least a month until using. Refrigerate after opening.