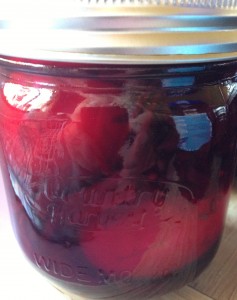 As part of the beetroot theme this month I decided to try some pickled eggs.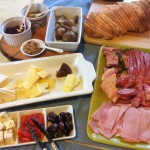 We have had some lovely summer weather and we are currently enjoying antipasto platters.
This recipe was adapted from Simply Recipes.  I thought pickled eggs might be a nice compliment and I just had to try these when I saw them. I think they would also be great in a salad.
Ingredients:
1 beetroot, peeled and roughly chopped into 2cm pieces
1 cup beetroot juice (reserved from cooking the beetroot)
1 cup cider vinegar
¼ onion, sliced
¹⁄³ cup sugar
3 cardamom pods
1 star anise
1 tablespoon Beetroot relish (optional)
6 eggs
Method:
Simmer the chopped beetroot in a cup of water, covered, until tender, 30-40 minutes (Or you can cheat and use a small tin of beetroot). Reserve 1 cup the beetroot juice from the cooking, or the juice from tin.
In a medium saucepan, add the vinegar, beetroot juice, onion, sugar, and spices. Bring to a boil and cook, uncovered, until the sugar has dissolved and the onions are translucent, about 5 minutes. Remove from heat and let cool while you boil the eggs.
Hard boil the eggs , peel and put in the bottom of a warm, sterilised glass jar. Put the beetroot relish on top of the eggs (optional).
Pour the warm vinegar mixture over the eggs in the jar, covering the eggs completely. Seal and refrigerate.
The pickled eggs will be ready to eat after a few days. The longer the eggs sit in the pickling juice, the more the pickling juice will penetrate the eggs. Use within 2 months of opening.