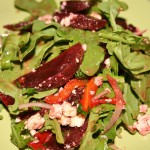 This salad is adapted from one of my favourite sites; taste.com.au
I served it with pan fried lamb steaks that were marinated in a balsamic dressing.
Ingredients:
2 tablespoons balsamic vinegar
2 teaspoons brown sugar
¼ teaspoon salt
¼ teaspoon freshly ground black pepper
¼ cup olive oil
80g baby rocket
4 pieces marinated red capsicum, sliced
¼ small red onion, halved, core removed, thinly sliced
¼ cup roughly chopped fresh flat-leaf parsley leaves
4 baby beetroot, roasted, peeled and cut into wedges
60g feta cheese, crumbled
Method:
Whisk together the balsamic vinegar, sugar, salt and pepper until the salt and sugar dissolve.
In a screw top jar or sealed container, add the vinegar mix and oil and shake vigorously to combine.
Combine the rocket, capsicum, onion, parsley and beetroot in a salad bowl. Dress with the balsamic dressing and toss gently. Serve immediately.