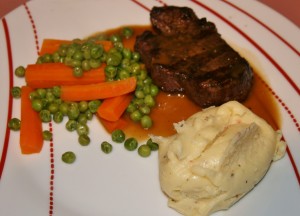 B1: "Oh My God! This tastes like when potato mash dies and goes to heaven and becomes an angel."
Hence Angel Mash is born.
This is not your every day mash, with the amount of butter that you put into it, you should only make it for special occasions or when you want to show off. This is the way we make the mash in the restaurant and as an added bonus I'll show you the cling wrap spoon trick to present the mash on the plate.
I have not given you exact ingredients as it all depends on the type and amount of potato that you use. Read the recipe before you begin so that you have everything ready that you need.
Ingredients:
Potatos, cooked (boiled or baked on rock salt) and still hot
Herb and/or Garlic butter, diced
unsalted butter, diced
cream or milk, warm
Method:
Press the cooked potato through a potato ricer or drum sieve straight into a saucepan while they are still hot.
Put the saucepan on a low heat to keep the mash warm while you work the butter in. Start adding herb butter while stirring with a wooden spoon, to incorporate as it melts. Add enough herb butter until you get the taste that you want, then swap to unsalted butter.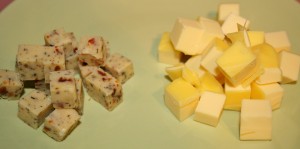 Continue adding and combining until the mixture splits. This means that the potato no longer takes up the butter and you get an oil slick in the pan and the potato is nice and shiny. Make sure you taste as you go and add salt if you need to.
Now add a small splash of the warm cream or milk and mix until it is combined and the mash comes back together with the butter.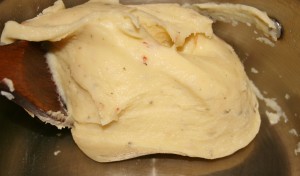 Your mash should be coming away from the sides of the pan in a creamy, shiny bulk. It is now ready to serve.
Using a serving spoon wrapped in cling wrap, make a quinelle of mash in the pan and serve directly onto the plate. The mash slides right off the cling wrap leaving a lovely smooth finish to the mash on the plate.