Bavarois was one of the requirements for my second year assessment. The brief was to be a cold dessert which includes or uses; bavarois, a chocolate component, anglaise sauce and a garnish of our choice. I have included all the recipes for you 🙂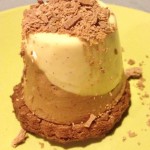 A Bavarois is like a custard that is set with gelatine, similar to a panna cotta, but with eggs as well.
I chose to do a Vanilla Mocha Bavarois on Double Chocolate Sable Pate with Mocha Anglaise and Chocolate Coated Coffee Beans.
The picture at the top is the practice run at home without the sauce or coffee beans. The consensus was very yummy!
I forgot to take a picture of the one from my assessment….. I'll try and get a copy 😛
Vanilla Mocha Bavarois:
Ingredients:
50 g Caster Sugar
2 Egg Yolks
250 ml Milk
250 ml Cream
1 vanilla bean
1.5 leaves titanium gelatine
60g dark chocolate
2 tsp coffee powder
Method:
Bloom Gelatine in cold water
Scald milk and vanilla
Whisk egg yolks and sugar until sabayon (pale yellow. thick and can see ribbons when you trail the egg mix)
Slowly pour scalded milk into sabayon mixing continuously
Return mixture to pot and thicken over med-high heat
Once thickened remove from heat
Squeeze excess moisture from gelatine and stir into anglaise
Split mixture into two and add chocolate and coffee into one half until mixed evenly
Strain and refrigerate with cartouche (the trick if you want to do a fancy separation is to leave the bottom later out of the fridge so it sets slower. That way you can mix and pour the top layer and have it set firm before you pour the next layer)
Just before mixture sets, fold in ½ volume soft peak cream into each mixture
Pipe or pour into prepared moulds one at a time, allowing time for each layer to set
Chocolate Sable
Ingredients
85 g dark chocolate (frozen for 10 minutes)
1 1/4 cups all-purpose flour
1/3 cup Dutch cocoa powder
1/4 teaspoon baking soda
1/4 teaspoon fine sea salt
149g unsalted butter, softened
1 cup sugar
1 large egg yolk
Method:
Grate the chilled chocolate with a fine grater and set aside.
Mix together the flour, cocoa powder, baking soda and sea salt.
Beat the butter and sugar in a medium bowl with an electric mixer until just combined. Mix in the yolk. Add the dry ingredients to the butter and beat lightly together until just combined but still crumbly. Fold in grated chocolate. Bring the dough together by lightly squeezing in your hands; but don't knead or overwork.
Divide the dough in half. Lay half the dough cling wrap and shape into a log. Seal into a sausage shape that is firm and smooth. Repeat with remaining dough and refrigerate for at least 1 hour.
Preheat the oven to 175 °C.  Line 2 baking sheet(s) with baking paper.
Slice logs into desired size, place on baking trays and refrigerate for 15 minutes.
Bake approximately 12 to 14 minutes. Remove from the oven and let cool on the pans, about 5 minutes.
Transfer cookies to a rack to cool completely.
Mocha Anglaise Sauce
Ingredients
150ml thickened cream
60g sugar
1 vanilla bean, seeds scraped
150ml brewed coffee
1 tablespoon instant coffee
50g dark chocolate
3 egg yolks
Method:
In a large bowl, whisk together the egg yolks and sugar until sabayon.
Add the brewed coffee and coffee powder, until well blended. Temper the yolks by gradually whisking in the hot cream mixture.
Return the custard back to the saucepan, add the chocolate and cook on medium-low heat, stirring constantly, until it is thick enough to coat the back of a spoon.
Refrigerate until ready with a cartouche. You can serve as a pool in the bottom of the plate/bowl or in a jug so it can be served to taste by the eater.