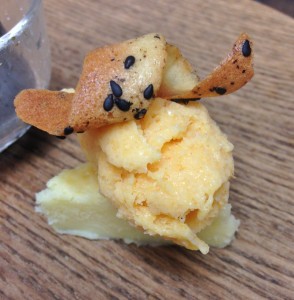 I have been working nights for over 10 months now and still haven't got used to the change. I just don't seem to have time to do anything……
Anyway, last month I got my first dish on the menu.  We are currently serving my lemon pudding and ginger & Black pepper tuile with persimmon ice cream. It is served on its own as dessert or with the new sesame brulee in the tasting course menu. My recipe below is the "original" as they wanted less sugar and less lemon for the restaurant. I like this one tho 😉
You can serve the pudding hot from the oven, but is is designed to be served once it has cooled. Try it both ways and see which one you like best!
Ingredients:
Lemon Pudding:
120 g Butter
330g Sugar
Zest of 1 lemon
3 Eggs, separated
80g S.R. Flour
350g milk
2 lemons, juiced
Ginger and Black Pepper Tuile:
50 g Icing Sugar
50 g Plain Flour
2 Egg Whites
20 g Unsalted butter, melted and cooled
3 Tsp Ginger juice (finely grate ginger and then squeeze the juice from the grated pulp)
Freshly ground black pepper
Black sesame seeds (optional)
Method:
Lemon Pudding:
Pre-Heat oven to 160°C
Mix butter, sugar & zest in food processor until well combined.
Add egg yolks and mix well.
Add flour and mix well.
Add milk and mix well.
Add lemon juice and mix well.
Beat egg whites to soft peaks and gently fold through batter.
You can pour the batter into individual moulds (greased) or a cake pan and then portion later. Whatever you decide. I quite like serving in the individual ramekins it was cooked in.
Boil the jug and use the boiling water to create a water bath to cook the pudding in.
Cook in 160°C, until just set at centre. It will be lightly golden and still a little tacky inside if you insert a skewer. Approximately 25 – 30 minutes if cooking as a whole slab or 10 – 15 if in individual ramekins. Time all depends on how small or large a container you have used. Just check every 5 minutes after the recommended cooking time and if it is starting to get quite golden on top it is probably getting over done.
Ginger and Black Pepper Tuile:
Preheat the oven to 175°C
Line a baking tray with a silicon biscuit/baking mat. If you don't have a silicone mat, spray the tray with cooking oil spray and cover with baking paper. If you have a fan forced oven with a strong fan, you may need to weigh the edges of the paper down, as the tuile is thin and light and in the commercial kitchen the paper just flies away in the oven.
Sift the icing sugar and flour into a bowl and then add the egg whites, melted butter and ginger, mix until smooth
(See alternative instructions below) Drop spoonfuls of the mixture onto the lined baking tray and spread with a palatte knife until it is a thin smear. Grind some black pepper on each and garnish with black sesame seeds if you wish.
Bake for 10-15 minutes, or until turning golden brown at the edges.
Leave to cool completely before serving. Store in an airtight container in between paper towel or it will go soggy and not retain its crunch.
OR: if you want to get fancy, you can do the following:
Put the tuile batter into a squeeze bottle (like an old tomato sauce bottle) and squeeze a thin line of tuile onto the tray. Use a palette knife to carefully adjust any lumpy or uneven parts. Bake as above.
NOTE: You have to work fast and the tuile is really hot. (Tip: I use food grade gloves to help insulate from the the heat)
As soon as you have removed the tray from the oven, using a palette knife or carefully with your fingers, remove a cooked tuile strip from the tray. Immediately (but carefully) wrap around a rolling pin, wooden spoon handle, or whatever it is that you want the tuile to take shape from. It will harden/set really quickly. As soon as it is set, remove and sit carefully on a wire rack covered with paper towel and move onto the next tuile.
OR: You can also make round shapes with the batter before baking. When they come out of the oven, carefully drape over the bottom of an inverted tea cup/ramekin/small bowl and gently press into the sides. This will form a nice tuile basket that you can fill with pudding, ice cream and sauce.