I started making this for my SIL, who tries to go gluten and dairy free where she can. Although the quinoa flakes smell awful while the granola is cooking, it tastes great. If you don't care about gluten free you can substitute rolled oats and if you don't like the coconut oil, you can use butter or a neutral veg oil or nut oil.
Ingredients:
300g quinoa flakes
120g coconut
120g flaked almonds
120g pepitas
150g coconut oil
150g maple syrup
400g mixed dried fruit – I used pineapple, paw paw, dates, sultanas, apricots & blueberries
Method:
Add the quinoa flakes, coconut, almonds & pepitas together.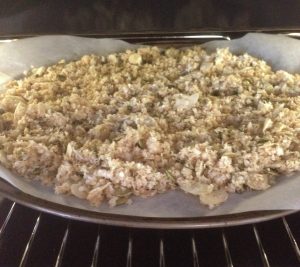 in a saucepan, gently heat the coconut oil and maple syrup until melted and combined. Mix into the dry ingredients
Spread the mix onto trays lined with baking paper and bake at 150°C, stirring every 10 – 15 minutes or so, until the mixture is toasted to your liking.
Serve with your favourite fruit and yoghurt for breakfast.