This is a really easy dish and perfect for the middle of the busy week. Serves 4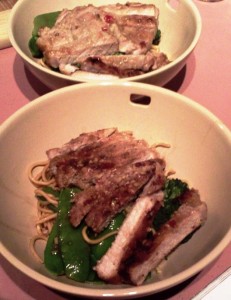 Ingredients:
1 ½ teaspoon grated fresh ginger
2 garlic cloves, finely chopped
¼ cup hoisin sauce
2 tablespoon honey
2 tablespoon soy sauce
2 tablespoon sweet chilli sauce
2 x 400g pork fillets or loin, trimmed (I used butterfly steak)
1 tablespoon sunflower oil
375g dried egg noodles
300g mixed bean green beans, sugar snap peas and snow peas, halved lengthways.
2 teaspoon sesame oil
2 spring onions, thinly sliced on an angle
Method:
Combine ginger, garlic, hoisin, hoey, soy and sweet chilli in a bowl. Add pork and coat well, marinate 15 minutes.
Preheat the oven to 200°C
Heat sunflower oil in a large ovenproof frypan. Add pork and brown in all sides for 2 – 3 minutes. Pour over marinade and 1 tablespoon water, cover with foil and bake for 15 minutes until the pork is cooked and the sauce is sticky.
Meanwhile, cook the noodles in boiling water according to the packet instructions. Add vegetables for the last two minutes of cooking time until the noodles are cooked and vegetables are just tender. Drain and toss with the sesame oil.
Remove the pork from the pan, leaving the sauce, set aside to rest briefly. Add noodles and vegetables to the pan and toss to coat in the remaining sauce.
Divide the noodles and vegetable among noodle bowls. Slice the pork, then add to the bowls and serve with a spring onion.