This pie is simple but absolutely delicious. It was originally a vegetarian recipe, but I just can't help adding bacon to things 😉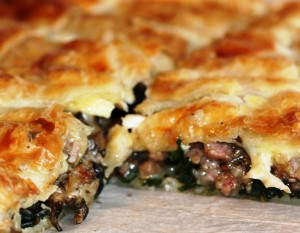 Ingredients: 
1 tablespoon unsalted butter
350g Swiss brown mushrooms, sliced
10g dried porcini mushrooms, soaked in boiling water for 10 minutes then drained
2 garlic cloves, finely chopped
250g diced bacon
400g spinach leaves
1 tablespoon rosemary leaves, finely chopped
3 x sheets, pre-made puff pastry, thawed
200g brie, sliced
1 egg, beaten
Method:
Melt butter in a large pan over high heat, then add sliced mushrooms and cook for 2 – 3 minutes, stirring, until soft. Reduce heat to medium, add chopped porcini, bacon, garlic and rosemary. Season and cook for 1 – 2 minutes until fragrant. Cool
Place spinach in a colander and pour boiling water over to wilt. Refresh under cold water, then squeeze to remove liquid.
Line the baking tray with one 1 ½ sheets pastry. Scatter over the spinach leaving a 2cm border on all sides. Top with cooled mushroom and bacon mixture, then sliced brie.
Brush pastry edges with egg. Top with remaining pastry and press gently to remove air pockets. Seal edges with a fork. Lightly score the top with a sharp knife, then chill for 20 minutes.
Pre-heat oven to 200 ºC.
Brush Pie with remaining egg and bake for 15 – 20 minutes until golden brown.