I love a good ragu, and as I was having a play making some homemade pasta, I couldn't resist giving this recipe a go. Although it took over three hours from start to finish, it was well worth the effort. This recipe comes from Matt Moran in the MasterChef Magazine Issue 13. You can find the original recipe there, I changed it a little due to the availability of the cut of meat and the number of serves. I used Duck breast with skin on (found at Coles) instead of the recommended duck marylands and changed a few little things in the preparation. Also, I am not usually a big fan of olives, but in this case they went beautifully with the ragu, so give them a go.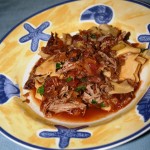 Serves: 4
Preparation Time: 30 minutes (plus extra if making pasta by hand)
Cooking Time: 2 hours
Ingredients: 
1 tablespoon olive oil, plus extra to serve
2 duck breasts
50g hot pancetta, finely diced
2 cloves garlic, thinly sliced
1 onion, finely chopped
1 small stalk celery grated
1 small carrot grated
1 cup red wine
1 cup chicken stock
1 x 400g can chopped tomatoes
1 bay leaf
1 cinnamon quill
1 star anise
40g Sicilian green olives, flesh sliced from pits and chopped
2 tablespoons chopped flat leaf parsley
Egg Yolk rag pasta or torn fresh lasagna sheets, to serve
Method:
Heat the oil in a casserole over medium to high heat. Cook the duck, skin side down, for 8 minutes or until dark golden. Turn over and cook for another 2 minutes or until light golden. Remove the duck and drain all but 1 tablespoon of fat from the pan.
Heat the pan over medium heat. Add the pancetta, garlic, onions and vegetables. Sit for 8 minutes or until vegetables are softened. Return duck to the pan and add the wine, stock, tomatoes, herbs and spices. Bring to the boil, cover, reduce heat to low and cook for 1 ¼ hours, or until the duck is tender.
Using a slotted spoon or tongs, remove the duck breast and set aside until it is cool enough to handle. Meanwhile, bring the sauce back to a boil and cook for a further 10 minutes or until it has thickened slightly. Finely shred the duck meat, discarding the skin (and any bones if using a different cut). Stir meat, olives and parsley into the sauce.
To serve, toss pasta with extra oil. Divide among bowls with the duck ragu.