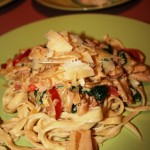 This was my first attempt (in a  very long time) at making pasta. The sauce recipe was one I basically made up from scratch and was absolutely delicious…. if I don't say so myself 🙂
Serves 3
Ingredients:
2 serves of basic pasta fettuccine
250g smoked chicken, sliced
75g diced bacon
2 tablespoons olive oil
2 shallots, finely chopped
½ red capsicum, thinly sliced
1 clove garlic, crushed
1 large handful baby spinach leaves
100ml cream
pinch Italian herbs
salt and pepper to taste
shaved Parmesan to serve
Method:
Bring a large saucepan of salted water to the boil, ready to cook the fettuccine.
While waiting for the water to boil, heat the oil in a frypan over medium to high heat. Cook the onion and garlic for a few moments until translucent, then add the bacon. Cook for 2 minutes or until starting to brown. Lower the heat to medium and add the capsicum.
Once the vegetables are softened, add the chicken until it has warmed through. Add the spinach and turn the heat down to medium low and let the spinach wilt while you cook the pasta.
Add the fettuccini to the boiling water and cook until al dente, stirring gently as fresh pasta is more fragile than store bought pasta.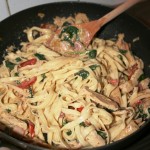 Add the cream to the sauce, along with the herbs and salt and pepper to taste.
Drain the pasta and stir gently through the sauce. Serve with shaved parmesan.