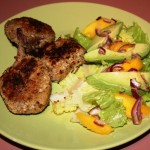 This combination was lovely, the tangy salad was very refreshing.
Ingredients:  serves 2
Salad:
3 tablespoons fresh orange juice
1 tablespoon fresh lime juice
1 tablespoon honey
1 teaspoon grated orange peel
3 tablespoons olive oil
2 x cup crunchy lettuce (I used cos)
¼ red onion, thinly sliced
½ avocado sliced
½ mango sliced
Cutlets:
3 slices white bread
1 tablespoon oregano leaves, chopped
25g haloumi grated
sea salt and cracked black pepper
6 lamb cutlets, trimmed
15g plain flour
1 small egg, lightly whisked
1 tablespoon olive oil
Method:
Salad:
Place the lettuce on the plate and alternate slices of mango and avocado across the lettuce bed. Mix the other salad ingredients and immediately before serving, drizzle over the top.
Cutlets:
Place bread in a food processor and process until roughly chopped. Place breadcrumbs in a bowl with the oregano, haloumi, salt and pepper and mix until combined.
Press the lamb into the flour, dip into the egg and then press onto the breadcrumb mixture.
Heat oil in a large, non-stick frypan, over meduim heat. Cook lamb for 4 – 5 minutes each side for medium rare or until golden and cooked to your preference.
Serve with salad