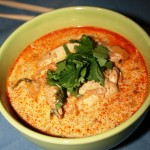 This is my absolute favouritest dish that DB cooks
Serves 4
Ingredients:
250g fresh thin egg noodles
2 tbs oil
6 red Asian shallots, finely chopped
3 garlic cloves, crushed
1 – 2 small red chilies, seeded and finely chopped
2 – 3 tablespoons red curry paste
375g chicken breast fillet, cut into thin strips
2 tbs fish sauce
1 tbs grated palm sugar (or soft brown sugar)
750ml coconut milk
1 tbs lime juice
250ml chicken stock
3 spring onions, sliced to garnish
10g coriander leaves, to garnish
fried red Asian shallot flakes, to garnish
ready made fried noodles, to garnish
red chili, finely diced, to garnish
Method:
Cook the egg noodles in a saucepan of boiling water according to the packet instructions. Drain, cover and set aside.
Heat a large wok over high heat, add the oil and swirl to coat. Add the shallots, garlic and chili and stir-fry for 3 minutes. Add the curry paste and stir-fry for 2 minutes. Add the chicken and stir-fry for 3 minutes, or until it changes colour.
Stir in the fish sauce, palm sugar, coconut milk, lime juice and stock. Reduce heat and simmer over low heat for 5 minutes – do not boil.
To serve, divide the noodles among four deep serving bowls and spoon in the chicken mixture. Garnish with the spring onion, coriander, shallot flakes, fried noodles and chili.