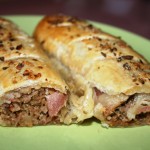 I am a bit of a sucker for meat wrapped in pastry and these individual wellingtons (they are really just glorified sausage rolls) were very simple to make and the mustard sauce was a delightful addition to dish along with DB's onion and garlic mashed potatoes.
Serves 2
Ingredients:
300g beef mince (I actually used a mixture of pork and veal mince that was in the freezer)
½ onion finely chopped
1 garlic clove, finely chopped
1 tablespoon tomato paste
1 tablespoon of finely chopped parsley (the possums are still devouring my parsley plant so I used the Gourmet Garden chopped parsley in a tube – from the supermarket)
½ tablespoon finely chopped rosemary leaves
¼ cup fresh breadcrumbs – plus extra to sprinkle
1 tablespoon Worcestershire sauce
½ tablespoon chopped, dried porcini mushrooms
1 tablespoon wholegrain mustard
1 egg, lightly beaten
1 sheet frozen puff pastry
4 thin slices proscuitto
Mustard sauce
100g sour cream
2 tablespoon Dijon Mustard

Method:
Preheat oven to 200°C
Combine beef, onion, garlic, tomato paste, herbs, breadcrumbs, Worcestershire, mushrooms, wholegrain mustard and most of the egg. Reserve enough beaten egg to brush the finished wellingtons. Season the meat mixture and mix well.
 Cut the pastry sheet in half and line each half with two pieces of proscuitto, then sprinkle with extra breadcrumbs. Divide the meat mixture in two and roll each portion into a long sausage shape and place along the proscuitto.
Fold over the pastry so the seal is along the bottom, leaving the ends open. Place in a baking tray. Brush with remaining egg and score the top of each wellington in several places.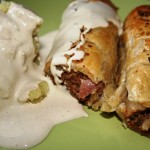 Bake for 20 – 30 minutes until pastry is golden. Remove from oven and rest for 5 minutes.
Combine sour cream and Dijon mustard to make the sauce.
Serve with potato mash and pan fried spinach