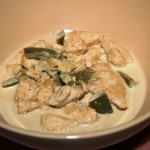 I know that you can get a Thai Green Curry recipe anywhere on the web, but trust me, this is THE BEST one I have ever tasted. I am sure that the secret is making the paste from scratch, using fresh ingredients.
Ingredients:
400ml coconut milk
2 tablespoon oil
1 onion, chopped
2 tablespoon Thai Green Curry Paste
500g chicken thigh fillets, cut into strips
¼ cup water
4 kaffir lime leaves
100g fresh green beans, chopped (I didn't have beans, si I just used some green capsicum)
1 tablespoon fish sauce
2 tespoon finely grated lime rind
3 teaspoon grated palm sugar
1 tablespoon lime juice
coriander leaves to garnish
Method:
Heat the oil in a wok. Add the onion and curry paste to the wok and cook over high heat for about 1 minute, until the spices are fragrant. Add the chicken and stir-fry for about 5 minutes until the chicken is almost cooked.
Add the coconut milk, water, kaffir lime leaves and beans to the wok. Bring to the boil, stirring occasionally. Reduce the heat and simmer uncovered for 10 minutes, or until the chicken is tender.
Stir in the fish sauce, lime juice, rind and palm sugar. Garnish with coriander leaves. Serve with steamed jasmine rice.