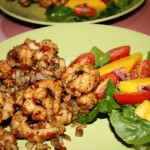 I gave Gary Mehigan's Chilli and Garlic Squid recipe to DB to have a go at, as calamari is one of his favourite foods. Not only did he cook it, he came home with two whole squid to clean and prepare before he did the cooking. I was very impressed, as I would have cheated and got the calamari already cleaned and prepared at the fish shop. This recipe is pretty much salt and pepper squid, done with chilli and garlic, but it is very delicious. We served it with my Mango, Citrus Salad.
Ingredients:
2 whole squid
½ cup rice flour
¼ cup cornflour
2 teaspoon sea salt flakes
2 teaspoon ground white pepper
1 egg white
2 cups peanut oil
1 garlic bulb, cloves finely chopped
2 green onions (shallots), finely sliced
2 red birdseye chillies, finely sliced
2 green birdseye chillies, finely sliced
1 long red chilli, finely sliced
2 teaspoon ginger, finely chopped
2 tablespoon coriander leaves, chopped, plus sprigs to serve
Method:
Rinse squid under cold running water. Gently pull the tentacles to separate the head from the hood. Remove and discard intestines and quills from the hoods. Remove and discard heads and beaks from tentacles. Rinse hoods and tentacles under cold running water. Cut hoods along one side and lay flat, inside up. Lightly score diagonally to create a crisscross pattern.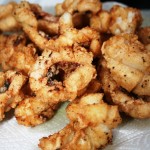 Combine flours, salt and pepper in a bowl. Place egg white in a separate bowl and whisk until foamy. Dip squid in egg white, draining off any excess. Toss in flour mixture to evenly coat.
Reserve 1 tablespoon of oil. Heat the remaining oil in a deep fryer to 185°C or in a heavy based pan on medium heat, until a cube of bread sizzles on contact. Cook squid in batches for 4 minutes, until golden and crisp. Drain on paper towel.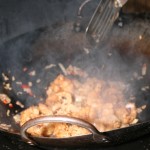 Heat reserved oil in a wok on medium. Cook garlic for 1 – 2 minutes, until golden. Remove with a slotted spoon and drain on paper towel. Add onion, chilli and ginger and stir-fry for 30 seconds, until fragrant. Add squid, garlic and chopped coriander and toss to combine. Serve topped with coriander sprigs.