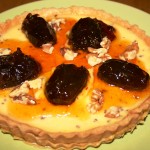 This is another recipe from Gary Mehigan. This one takes a bit of preparation and cooking, but is a nice twist on a regular custard tart. The first time I made it I cheated and used a store bought pastry base. I had to forego the brûlée part as I didn't have a kitchen blow torch. I was too eager to eat the end result and so, I also forgot to take a photo. What a shame! That meant I had to make it again. This time around, in my haste I forgot to do the brûlée part, using the blow torch that Santa gave me and put the dates and sauce on first. At least this time I made the pastry from scratch and took a photo before there was only crumbs left. It just means I'll have to make it again….. oh well 😀
Ingredients:
1½ cup caster sugar
grated rind of 1 orange
juice of 3 oranges
300g small dates
⅓ cup walnuts
Sweet Pastry:
125g unsalted butter, at room temperature
2 tablespoon pure icing sugar, sifted
240g plain flour
1 egg, plus 1 extra, lightly beaten
Vanilla Custard:
5 egg yolks
400ml thickened cream
¼ cup caster sugar
1 vanilla bean, split lengthways, seeds scraped
Method: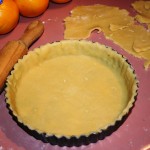 Preheat oven to 180°C or 160°C for fan forced. Grease a 23cm loose based tart pan.
To make the sweet pastry, use an electric mixer, fitted with a paddle attachment to beat butter and icing sugar until creamy. Add flour and a pinch of salt, and beat for 30 seconds. Add 1 egg and beat for 2 minutes, until the dough comes together into a ball. Roll out dough on a lightly floured surface to 3mm thick.
Fold the pastry over a rolling pin and unfold over pan. Using your finger tips, gently press the pastry into the sides of the pan without stretching. Remove any excess pastry by pressing it over the edge of the pan with your thumb. Prick base of pastry with a fork, place in freezer for 30 minutes.
Line the pastry case with baking paper fill with baking weights, rice or dried beans. Blind bake for 15 minutes, until pastry starts to colour. Remove paper and weights. Bake for 10 – 15 minutes, until pastry is golden and firm. Reduce oven to 150°C or 130° for fan forced.
To make the vanilla custard, whisk together egg yolks, cream, sugar and vanilla seeds in a large jug until just combined. Brush the pastry shell with the beaten egg. Pour in the custard and bake for 25 minutes, until almost set. When you tap the side of the pan it should wobble only once. Chill for 1 hour.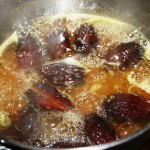 Meanwhile, combine 1 cup of caster sugar, 1 cup of water, orange juice and rind in a saucepan on high heat. Cook, stirring occasionally for 8 – 10 minutes, until reduced by half. Reduce heat to low, add dates and cook for 3 – 5 minutes, until puffed. Remove from heat.
Dust tart with remaining caster sugar and cover pastry with foil. Using a blowtorch, melt sugar until dark golden and caramelised.
Drizzle custard tart with orange syrup and top with poached dates and walnuts. Cut into wedges and serve with double cream.