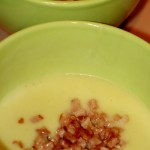 This one is a new family favourite and has almost (almost) taken over from DB's pumpkin soup. For a vegetarian option, just leave out the bacon. But for me, when doesn't bacon make a meal taste better 😉
Ingredients:
1 tbs olive oil
20g butter
2 leeks, white section only, thinly sliced
2 garlic cloves, crushed
1kg potatoes, peeled, coarsely chopped
1L  chicken stock
750ml  water
250ml  thin cream
250g diced bacon
Method:
Heat oil and butter in a saucepan over medium heat Add the leek and garlic and toss to coat. Reduce heat to medium-low. Cook, covered, stirring occasionally, for 18-20 minutes or until soft.
Add the potato, stock and water, cover and simmer over medium-high heat, partially covered, for 25-30 minutes or until potato is tender. Set aside for 10 minutes to cool.
Meanwhile, fry bacon until crispy.
Using a stick blender and blend until smooth. Add the cream and cook, stirring, for 5 minutes or until heated through. Season with salt and pepper.
Ladle among serving bowls. Sprinkle with bacon and serve with crusty bread.