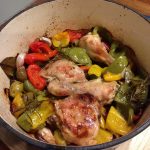 This is a wonderfully simple, rustic dish but so also tasty. It is my go to – one pot dish, when I can't really be bothered cooking.
It comes from the book Limoncello and Linenwater by Tessa Kiros.
Serve it with a nice fresh ciabatta or sourdough. We like to squeeze the cooked garlic cloves and spread on the bread and then pile on the "peppers" and olives on top, and then to soak up the chickeney olive oil.
Serves 2
Ingredients:
3 capsicum; red, green & yellow
2 chicken Maryland or 4 chicken pieces, skin on (Bone in is better, I use legs & thighs)
10 whole garlic cloves, unpeeled
3 fresh bay leaves
3 rosemary sprigs
100 g mixed olives
4 Tbs olive oil
Method:
Preheat the oven to 180°C.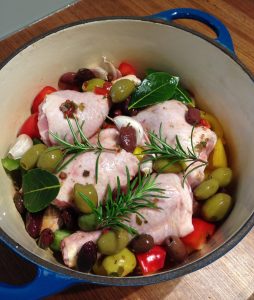 De-seed the capsicum and slice into pieces about two to three cm square and add to a heavy based casserole that has a lid.
Add the remaining ingredients, season generously with salt & pepper and toss to cover everything with oil.
Put on the lid and cook for 1½ hours. The chicken should be cooked through (85°C or higher in the center) and the capsicum nice and soft.
Take off the lid and put back in the oven for another 30 minutes to give the chicken some colour.
Serve with sliced ciabatta or sourdough and don't be afraid to get your fingers messy.