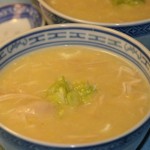 This recipe is adapted from an old Women's Weekly Cookbook recipe, that I have been cooking for years. It is one of my favourites and a great way to use up leftover roast chicken.
I usually buy a larger chicken than I need to roast and then I have plenty of meat leftover for the soup. Before you take the leftover meat off the bones, bung the whole thing in a pot to make the stock and then remove any remaining chicken meat for the soup.
Ingredients:
Stock:
1 leftover roast chicken, left intact
2 Litres water
2.5 cm ginger, peeled and sliced
1 onion, quartered
4 black peppercorns
3 sprigs parsley
1 teaspoon salt
Soup:
470g can creamed corn
2 chicken stock cubes
½ teaspoon fresh ginger, grated 
1 teaspoon sesame oil
salt & pepper to season
4 tablespoon cornflour
4 tablespoon water
2 egg whites
2 tablespoon water
5 shallots, chopped
4 shallots, sliced, to garnish
Method:
In a large saucepan place all the stock ingredients, bring to the boil, then cover and simmer gently for 1 ½ – 2 hours. Remove any scum from the top, strain and reserve the liquid.
Remove meat from chicken, shred and set aside. Discard the remains.
In a clean saucepan, add the chicken stock, creamed corn, crumbled stock cubes, grated ginger, shallots, salt, pepper and sesame oil and bring to the boil.
Mix the cornflour and 4 tablespoons water to a smooth paste, add to the soup and stir continually until the soup boils and thickens. reduce heat and simmer for one minute.
Beat egg whites and extra water lightly. Add to the soup in a thin stream, stirring well.
Add chicken meat to the soup and heat gently.
Ladle into bowls and top with sliced shallots to serve.