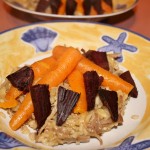 What to do with left over slow cooked pork??? I am big on not wasting food. DB and the mini B's know it is a bug bear of mine and I am sure if they throw out anything, they hide it well so I don't go off my 'narna.
This recipe was adapted from Winespectator. This risotto was so easy and I was really surprised at the flavour. The only thing I might do differently, is use a feta or goats cheese instead of the parmesan and pecorino. Well, that and learn how to plate up nicely. My attempt at arranging the veges on top instead of incorporating in the risotto was not a success (as you can see) and I still ended up with goop on a plate…… Maybe that it just my thing, looks like slop on a plate….. tastes great though!
Serves 2
Ingredients:
Leftover pulled pork, I used about a cup and a half
Beetroot:
6 baby beetroot 
Carrots:
½ cup orange juice
4 baby or dutch carrots
1 tablespoon unsalted butter
salt and pepper to taste
Risotto:
1½ cups chicken stock
½ tablespoon unsalted butter
½ tablespoon canola oil
½ onion, diced
½ cup arborio rice
salt and pepper to taste
1 cup dry white wine
¼ cup finely grated Parmesan
¼ cup finely grated Pecorino
Method:
Beetroot:
Pre-heat oven to 200°C. Wash the baby beetroot, trim the stems and wrap in foil. Roast on a baking tray for around 30 minutes or until tender. Quarter the beetroot and keep warm until needed.
Carrots:
Wash and trim the carrots of stems and tips. Heat the orange juice in a small saucepan over medium heat, and simmer until slightly thickened, about 10 minutes. Add the carrots, and toss to coat. Continue to simmer until the carrots are just tender. Stir in the butter, and lightly season with salt and pepper. Cook until the sauce is thick enough to glaze the carrots. Cut the carrots in half, lengthwise, return to the pan, cover and keep warm. Set aside. Reserve the orange glaze for the risotto.
Risotto:
Heat the chicken stock in a small saucepan over medium-low heat and keep at a low simmer until needed.
In a large fry pan melt the butter and oil over medium heat. Add the onion, and cook until translucent. Add the rice, and stir until the grains are slightly toasted, 1 to 2 minutes. Season with salt and pepper.
Add the wine and stir. When the liquid has almost evaporated, add ½ cup of the warm stock, stirring. When the rice has absorbed all the liquid, add another ½ cup, stirring frequently. Repeat until the stock has all been absorbed.
Add the orange juice from the carrots and let that absorb, stirring every now and again. If the rice is still crunchy and not quite cooked through, add ¼ cup of wine at a time until absorbed and the rise is cooked (If you have any wine leftover by then and don't drink it as you are cooking like I do….). Taste and season with salt and pepper.
Add the pork and stir until heated through. Remove from heat, and fold in the cheese.
Serve immediately, topped with the carrots ans beetroot.