By the power of Twitter I stumbled upon Aproneers, a local deli selling all manner of Tassie produce AND they were having their soft opening that day. I had a look at their fare online and noticed they had goat on offer and was inspired to try a goat curry for dinner. After googling an appropriate recipe, I made a list and ventured out to purchase the required fresh veges, herbs and goat meat.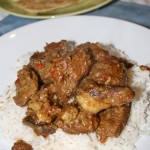 I have based this recipe on the Ulitmate Goat Curry recipe. Due to not having all the ingredients to hand, I have improvised and it is still a damn fine curry  (if I don't say so myself), a little mild so I will try a little more curry powder next time and adjust the recipe accordingly when I do. We served it with rice and the Darling Boyfriend's (DB) roti canai.
Ingredients:
600g goat, cubed
pinch salt
dash black pepper
½ medium onion sliced
2 cloves garlic crushed or diced finely
1 sprig thyme
½ tomato sliced
¼ chili pepper
1 spring omion, sliced
½ teaspoon Madras curry powder (for seasoning the meat)
1 ½ tablespoon Madras curry powder (for cooking)
¼ teaspoon cumin powder
¼ teaspoon chaat masala
1 tablespoon Trinidad green seasoning (substitute chopped coriander leaves and roots)
½ teaspoon tomato paste
3 tablespoon oil
1 ½ cups water
Method:
Season the goat meat with everything listed above except the water, oil, onion, garlic, chilli and 1 ½ tablespoons of Madras curry powder. Mix well, cover and put in the fridge to marinate for at least 2 hrs. Take it out of the fridge about 10 minutes before cooking so it gets back to room temperature.
In a heavy based pot put the oil to heat on medium/high, then add the onion and garlic and allow to cook for a few minutes until soft and fragrant. Add the chilli pepper and curry powder to the onion and garlic. Cook until it starts to stick or go really thick. Add a ¼ cup of water and allow this to cook on medium heat for about 5 minutes. Continue to stir.
Once the mixture has reduced and the colour has become darker, Increase the heat and add pieces of seasoned meat a few at a time. Stir between each addition. Allow this to cook for about 25 minutes on a gentle simmer. Add the 3 cups of water left from the ingredient list to the bowl that had the seasoned pieces of meat and then transfer into the meat. 
At this point I transferred everything to the slow cooker and cooked for 4 hours on high. If you have the time, cook for 7 – 8 hours on low.
Transfer everything back into the heavy based saucepan, bring to the boil, then turn down the heat to low and simmer, covered until reduced.
Serve on rice with flat bread if desired