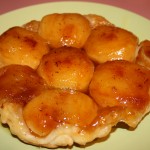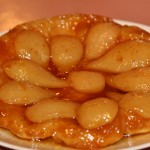 Ever since the first MasterChef Tarte Tatin challenge, I've been wanting to give one a go.  So I gave two a go, a pear (on the right) and an apple (on the left).
Next time I'll even have a go at the pastry from scratch instead of using a sheet from the freezer.
Ingredients:
½ cup caster sugar
50g unsalted butter
1 vanilla bean pod, seeds scraped
6 pears or 4 apples, peeled, cored and halved
1 sheet frozen puff pastry
Method:
Melt butter in an oven proof, 20cm frypan. Stir in vanilla seeds and strips of pod then sprinkle the sugar evenly over mixture. Arrange fruit (cut side up) tightly in fry pan. Cook over medium heat for 10-15 minutes shaking the pan occasionally, until sugar mixture is golden in colour. Cool for 30 minutes in the pan.
Cut a 22cm circle from the pastry sheet and place on top of the fruit, tucking pastry edges in around the edges of the fruit.
Bake at 190°C for 25-30 minutes or until pastry is golden. Stand for 20 minutes. Invert  and serve warm with ice cream.