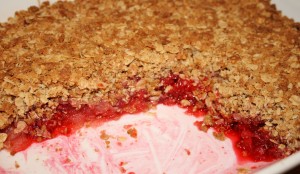 We got a lovely container of raspberries at Christmas from mum and the DB loves anything with raspberries in it. After a look on the web I found this gem on taste.com.au and it went down a treat.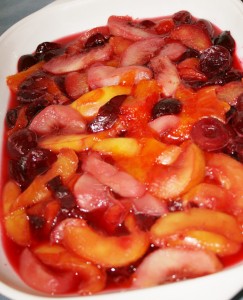 You can use any mix of fruit. I used the same crumble topping and did a lovely stone fruit crumble of Apricots, Peaches, Nectarines and Cherries. I might try and apple and blueberry next.
Ingredients:
4 granny smith apples, peeled, cored, coarsely chopped
2 tablespoon caster sugar
300g frozen raspberries
2 cups breakfast cereal flakes, crushed (I used Be Natural 5 Wholegrain Flakes)
1 cup rolled oats
½ cup shredded coconut
½ cup brown sugar, lightly packed
¼ cup plain flour
100g butter, diced
Method:
Preheat oven to 180°C.
Combine the apple and caster sugar in a saucepan over medium heat until the apple is soft. Remove from heat.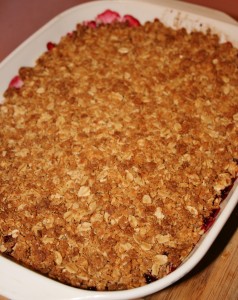 Add the raspberries and gently stir until just combined. Spoon into a 1L capacity ovenproof dish.Cook, covered, stirring occasionally, for 10 minutes or until apple softens. Remove from heat.
Gently stir in the raspberries and put into a lightly greased baking dish.
Combine the flakes, oats, coconut, brown sugar and flour in a medium bowl. Use your fingertips to rub the butter into the flake mixture until just combined. Sprinkle the cornflake mixture evenly over the apple mixture in the dish.
Bake in oven for 20-25 minutes or until the crumble is golden brown.
Serve with vanilla bean ice cream and double cream.