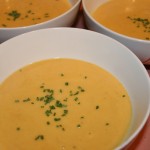 I was visiting some work colleagues the other day and the lovely Lady Trudy mentioned the parsnip snoup she had cooked the day before and happily shared the recipe. Now here it is immortalised in blog for everyone to share. Thank you Trudy!
Yes, I know soup doesn't have an "n" in it, but this one does, get over it…….
Ingredients:
2 tbs Olive Oil
330g Parsnip (about 2 medium), peeled & chopped
130g Potato (1 medium), peeled & chopped
90g Carrot (1 medium), peeled & chopped
1 Onion, chopped
2 tsp Tikka Curry Paste
750ml / 3 cups Vegetable Stock
100ml Cream
Method:
Heat oil in large saucepan over medium heat. Add chopped veg & onion and cook for 5 mins.
Pour in 500ml / 2 cups stock and add the tikka paste.
Cover, bring to boil, then simmer for 20mins until tender.
Cool slightly and blend until smooth in food processor.
Return to saucepan, stir in remaining stock and the cream.
Season to taste with salt and pepper and serve hot with crusty bread