I was fortunate enough to have lunch at Saffire's restaurant a few months ago and as an added bonus, Chef of the year Simon, was kind enough to let me have the recipe for the wonderful claypot spiced flathead that was served. The recipe was for barramundi, but I used flathead as well. My version was not as good (I would have been very surprised if it was), but it was still very tasty!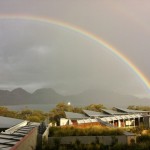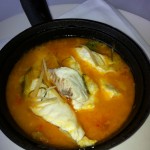 My attempt is on the top, the restaurant dish is on the bottom. On the right is the rainbow that was presented while we ate our lunch and took in the fabulous Tassie view of the Hazards Mountains.
Serves 6
Ingredients:
Barramundi or other white fish (I used flathead). Enough to serve six
Coconut Sauce:
1 lt Coconut Milk
4 Kaffir Lime Leaves
1 Knob Ginger, Julienne
30 mls Fish Sauce
3 Tablespoon Palm sugar, grated
Fresh Curry leaves
Tomato Base:
1 large Onion, finely diced
3 Cloves Garlic, minced
1×2 cm Fresh Turmeric, minced
1 Large Knob Ginger, peeled and minced
5 Small Thai Green Chillies, minced
250mls Vegetable Oil
6 Vine-ripened tomatoes, cored and de-seeded
1 Tblsp Madras Curry Powder
Garam Masala:
¼ cup Green Cardamon Pods , Roasted
1 tsp Cloves, Roasted
1 tsp White peppercorns, Roasted
2 Sticks Cinnamon, Roasted
4 Star Anise, Roasted
Method:
Tomato Base:
Cook the onions, garlic, turmeric, chillies and ginger in the vegetable oil in a heavy based pot. Cook slowly until caramelised. This can take up to 1 hour.
Add the Madras curry powder and cook for another 10 minutes.
Dice the tomatoes into 5mm. When onion are cooked add the tomatoes and cook for 5 more minutes.
Garam Masala:
Grind all spices in a spice grinder or mortar and pestle till very fine.
Coconut sauce:
Bring all ingredients to a slow simmer. Simmer for 5 minutes. Strain and discard solids.
In a clay pot, place tomato base in bottom, then coconut sauce. Place portion of fish on top and sprinkle with a little garam masala. Place lid on and cook in the oven at 180°C for 25 minutes or until cooked.
Serve with rice pilaf.