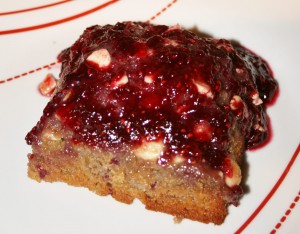 I had a fairly simple meal planned for dinner and asked the DB what he would like for pudding. Being the smart ar$e that he is, he asked for raspberry, knowing that there were none in the fridge and it was not raspberry season. What he didn't plan on was my resourcefulness and I came up with a lovely steamed raspberry and white chocolate pudding using the raspberries that I had in the freezer from my mother and the DB's mother's raspberry jam. Problem is, now he'll expect me to deliver every time he comes up with something on the fly………………
The nice thing about this dessert is all the white chocolate sinks to the bottom, which then becomes the top when you invert the pudding.
Serves 2
Ingredients:
70g brown sugar
55g soft butter
1 egg
1 teaspoon vanilla essence
1 tablespoon milk
55g raspberries
50g white chocolate, chopped
2 tablespoons raspberry jam (optional)
Method:
Preheat oven to 180°C
Grease two individual pudding dishes or large teacups also work well.
Cream the butter and sugar, then beat in the egg and vanilla extract.
Fold in the flour and milk.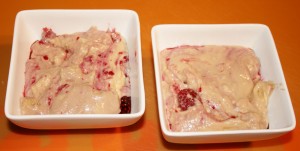 Stir in the raspberries and white chocolate.
Place half the raspberry jam into the bottom of each pudding dish and push it up the sides slightly. Spoon the batter evenly between the two dishes on top of the jam.
Cover with lids or seal with foil. Place into a deep baking tray.
Place the try in the oven and then fill it halfway up the sides of the dishes with boiling water.
Cook for 1 hour. Invert onto serving plates and serve with ice cream or cream.