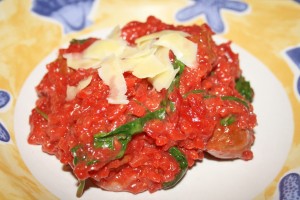 This risotto was taken from taste.com.au.
I am not sure why my risotto was orange and not beetroot red, but it tasted good all the same 🙂
I used my awesome rice and risotto maker, to make this instead of the traditional method and it worked a treat. But here is the method without "cheating". This is also the last of my beetroot obsession, time to move onto something else…… probably tagine's as I just got a lovely big tagine for my birthday.
Ingredients: 
2 beetroots, peeled, coarsely grated
1 litre chicken stock
1 tbs olive oil
4 pork sausages, casings removed, coarsely chopped
1 fennel bulb, finely chopped
2 garlic cloves, crushed
1 cup (220g) arborio rice
125ml dry red wine
50g baby spinach leaves
20g shaved parmesan
Method:
Combine the beetroot and stock in a medium saucepan over high heat. Bring to the boil. Reduce heat to low and keep at a gentle simmer.
Heat half the oil in a large saucepan over medium heat. Add the sausage and cook, stirring and breaking up with a wooden spoon, for 5 minutes or until sausage is brown all over. Remove from pan and set aside.
Heat remaining oil in the pan. Add the fennel and garlic and cook, stirring, for 5 minutes or until the onion is soft and translucent. Add the rice and stir until they also become translucent.
Add the wine to the rice and stir continuously with a wooden spoon until the liquid is completely absorbed. Add 1 cup of the beetroot mixture and stir until liquid is completely absorbed. Continue adding the beetroot stock, a cup at a time, stirring continuously, allowing the liquid to be absorbed before adding more. Cook for 20 minutes or until the rice is tender yet firm to the bite and the risotto is creamy. Remove from heat and stir in the sausage, spinach and parmesan. Season with salt and pepper. Serve immediately.