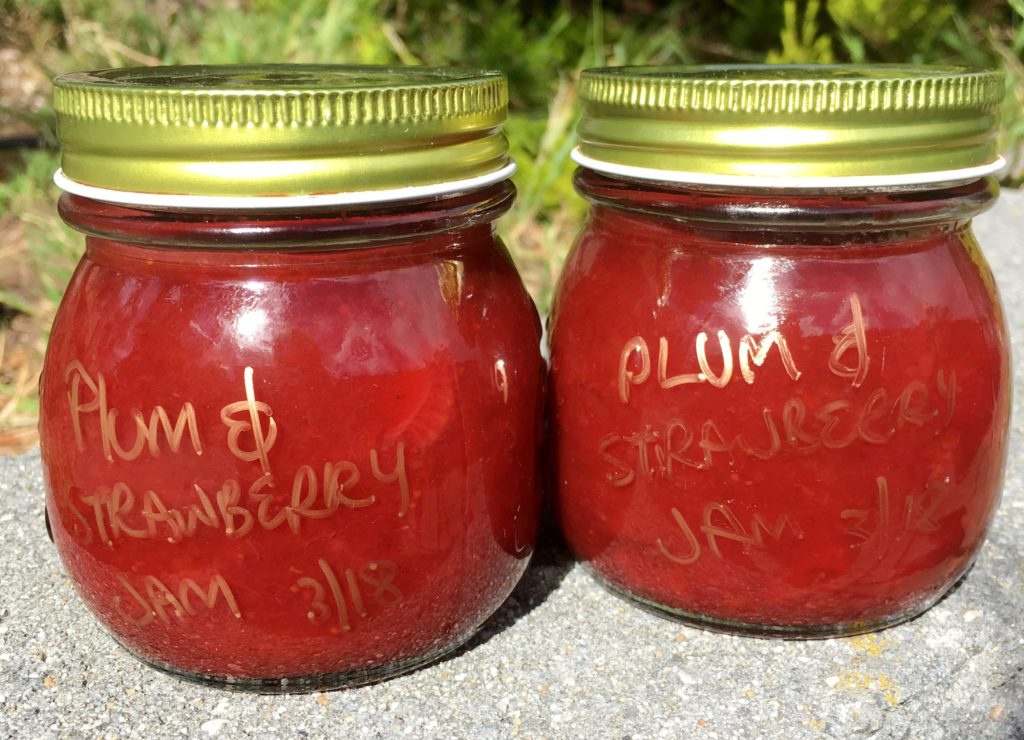 I have started getting a vege box each Friday from Backyard Bounty and recently had a heap of apples, plums and strawberries and a bucket of plums from my parents. I turned it all into Apple and Sage jelly, Chinese Plum sauce, Strawberry BBQ sauce and Plum and Strawberry jam.
This plum and strawberry jam was form a Strawberry Plumcot (or Pluot) Jam recipe I found in the Blue Chair Jam Cookbook.
Ingredients:
1.64 kg plums, halved and pitted
1.16 kg strawberries, hulled, larger ones halved
1.16 kg sugar
170 g – 285 g fresh lemon juice
several drops rose water (optional)
Method:
Place the fruit and sugar in alternating layers in a large glass or hard plastic storage container
Drizzle over 65 g of lemon juice. Cover tightly and refrigerate for 24 – 48 hours, until the fruit has released its juices.
When ready, stir well to help dissolve the sugar and add 65 g lemon juice.
Taste the liquid of the mixture and slowly add more lemon juice until you just taste the lemon juice.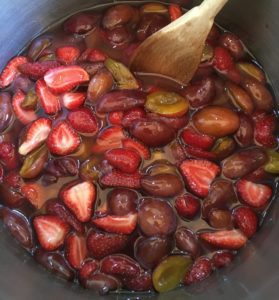 Transfer to a large pot and bring to a boil over a high heat, stirring frequently for four minutes.
Remove from the heat and skim. Return to the heat and boil until thickened, approx 20-30 mins. Reduce heat if it starts to splutter violently or stick. Stir regularly as it will burn easily.
Stir constantly from now on and bring to 104.5°C.
Take off the heat, skim any remaining foam and if desired, sprinkle over rose water.
Pour into sterilised jars.